Born in Mexico City, Veronica Segura is an actress and writer. An Honors graduate from Texas State University, she was awarded her B.F.A. in Theatre Arts. She has lived, worked and studied in New York City, Melbourne and Sydney. In New York she studied David Mamet's Practical Aesthetics acting technique, affiliated with New York University, at the Atlantic Theatre Company. She also studied scriptwriting with Robert McKee. It was in Australia that she began her acting career, appearing in feature films such as Star Wars: The Attack of the Clones, Tribe, and Subterano.

In 2001 she returned to her native Mexico, where she appeared in numerous international film, theatre and television productions. She was a regular columnist for Playboy (Mexican edition) from 2006 to 2008, and in 2009 she was awarded a Masters Degree in Creative Writing from Casa Lamm in Mexico City. She now lives and works in Buenos Aires, Argentina.
How did you get started in the movie business?
By incessantly knocking doors.
How did you get the part of Cordé in Attack of the Clones?
I simply auditioned. it was a rather short, easy process, which has never ceased to amaze me given the importance of the project.
Were you a Star Wars fan before you got cast? Had you seen the movies and what did you think of them?
I was never a fan. I saw the movies because my brother had always been a big fan. He used to build massive sets made out of styrofoam and cardboard and he used me as his assistant. He would direct me, tell me what character to play, where to fly a ship, make me dress like princess Leia. I had plenty of training before meeting George Lucas.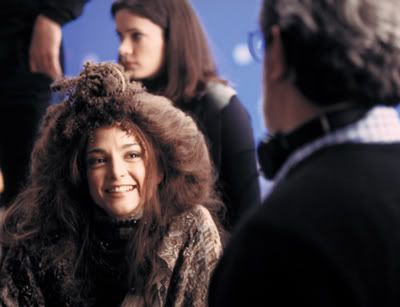 Can you share some of your memories regarding the time you worked on Attack of the Clones?
It was a brief, magical time. as I walked into a gigantic green box full of busy people, I kept hoping I could meet George Lucas in person. I walked very slowly because I was carrying on my head what felt to be my own weight on a wig and a hair piece. I tried to ignore my anxiety and migraine. Then suddenly, facing me, offering his hand, was he, the one and only George Lucas. "How are you doing today?" "Uh", was the most articulate answer I could muster. "If there's anything I can do for you just let me know", "Uh-huh", I responded. He smiled and left. What the hell just happened? Then I smiled and fainted. Or so it felt like it.
You had a scene with Natalie Portman, who is a famous actress these days. How was she and did you learn things from her?
S
he was very kind and focused. I was pleased to see her fame did not get in the way of her work.
How did George Lucas direct you? And what impression did he make on you?
H
e got on top of a huge machine, he went up and down in his seat. It reminded me of what the electric company uses to fix the street light bulbs. He was actually very open to suggestions, we talked about the character, how it would be to suffer an explosion, Corde´s devotion to the senator etcetera. We tried different approaches, and of course, what you see on screen is what he liked the best.
Did any strange, weird or remarkable things happen during the making of the movie?
G
eorge Lucas offered me chocolate chip cookies while we were on a break. So we went to the green room and shared them with Jar Jar and we all told some jokes.
What do you regard as the highlight of your career so far?
Every project is a highlight because in every project I learn and grow.
And what would you like to achieve in your career?
What would be a right role for you? Maybe a big director is reading this!
I
don't necessarily think of "right roles", but "right stories". If the story as a whole is compelling, I want to be a part of it.
What are you currently up to? Can you tell us something about your current or future projects?
I am writing a novel and publishing a book of stories.
Please finish the following sentence: "When I look back at my work on Star Wars, I…"
…always smile at how I made my brother proud.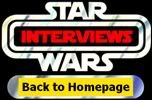 THE site for booking Star Wars and Sci-Fi guests