In 1983 I could have never expected to have my own Star Wars site. In that year (I had just turned 7) I saw some bits of the famous Sarlacc Pit scene from Return of the Jedi on television. Return of the Jedi was just released and they were promoting it. I HAD to see that movie.
My mother took me to the cinema and I didn't understand anything as I had missed the other two movies! Jabba the Hutt scared me, but when the Ewoks came everything was allright.
I also discovered that I already had one Star Wars toy: the Darth Vader action figure. Every time I walked out of the toy store I saw the carded figure and the image of his helmet fascinated me. My parents bought it for me and after Return of the Jedi I had to have all the other toys as well.
This was my first step into what Obi-Wan calls 'a larger world'.
Over the years that followed I never lost interest. I rented the movies a dozen of times, I saw the Ewok movies and the Droids and Ewoks cartoons, I read the comics and Timothy Zahn's Thrawn Trilogy…..and then the Special Editions and the Prequels were released and it was clear that Star Wars was here to stay forever.
Then, things got serious.
I got an invitation from 20th Century Fox to attend a pre-screening of Episode I (and met Rick McCallum there) and started attending conventions where I ended up being a staff member for various events. I met dozens of actors and even worked twice with my childhood hero: Anthony 'C-3PO' Daniels, which is still my personal Star Wars highlight.
A highlight in those days were the interviews I gave for radio stations, a newspaper and even one on television.
Another thing I started to do was to interview all the people involved with Star Wars: cast, crew, you name it. All the interviews were published on websites I worked for and finally my own site: Star Wars Interviews.
That's my story.
This site is about everyone involved with the Star Wars movies and spin offs. The cast, the crew...I'd like to hear everyone's stories regarding working on the biggest saga ever.
I hope you enjoy this site.
May the interviews...I mean: Force be with you,
Dennis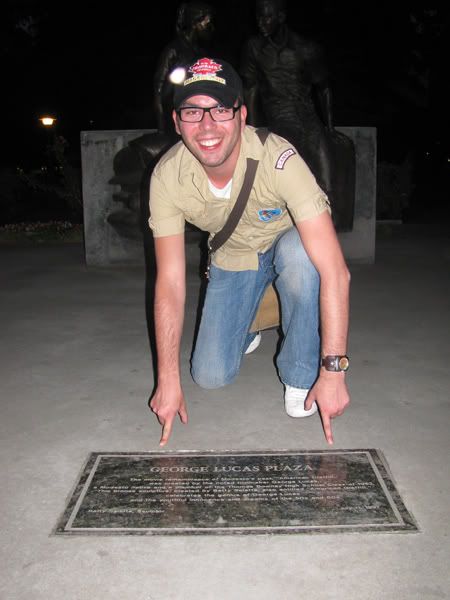 That's me at George Lucas Plaza in George Lucas' birthplace: Modesto, California, USA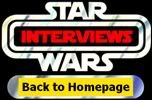 Star Wars®, The Empire Strikes Back®, Return of the Jedi®, The Phantom Menace®, Attack of the Clones®, Revenge of the Sith®, Indiana Jones® and associated photographs, element and logos are property of Lucasfilm Ltd. This website is not endorsed or licensed by Lucasfilm Ltd.

All pictures, scans, music, and sounds from Star Wars® and the films, novels, associated elements and logos, and other licensed works based upon it are copyright © Lucasfilm, Ltd. No copyright infringement in these pages is intended. All such content (e.g., clips, stills, designs, artwork, etc.) is protected by intellectual property laws No claim of ownership nor reassignment of Lucasfilm's copyright and copyrighted material to any other parties is intended or inferred.

The Lord of the Rings and associated photographs, element and logos are property of NewLine. This website is not endorsed or licensed by NewLine.

All website design, text and graphics displayed on STARWARSINTERVIEWS.BLOGSPOT.COM is protected by copyright. Modification, distribution, transmission or republication, without the prior written permission of the webmaster is strictly prohibited. © STARWARSINTERVIEWS.BLOGSPOT.COM. All rights reserved.

STARWARSINTERVIEWS.BLOGSPOT.COM is a non-commercial/non-profit fan website. All information on STARWARSINTERVIEWS.BLOGSPOT.COM is expressly being used for entertainment purposes only. Copyrights and trademarks of all photography, articles, books, films, video clips, music, and promotional materials contained or referenced herein are held by their respective owners and NOT the creators or contributors to STARWARSINTERVIEWS.BLOGSPOT.COM. In the context of STARWARSINTERVIEWS.BLOGSPOT.COM, the use of the aforementioned is allowed under terms set forth in the Fair Use Clause of the Copyright Law (Title 17, Chapter 1, Paragraph 107). We hold no legal rights to anything offered on STARWARSINTERVIEWS.BLOGSPOT.COM unless otherwise noted. If you are the original copyright holder of any portion of STARWARSINTERVIEWS.BLOGSPOT.COM and wish to have any item modified or removed, email the webmaster, BEFORE you take legal action.