In november 2006 I had the following interview with the beautiful Australian actress/singer Bonnie Piesse.
In the Star Wars galaxy she'll forever be remembered as the young Beru Whitesun, the friendlu aunt that helped Uncle Owen raise the savior of the galaxy: Luke Skywalker.

First of all, your last name… how do you…?
Piesse, as in 'peace'.
Okay, because everybody seems to pronounce it in a different way.
Yeah, it's confusing. Some people say [pièsse], but [piehs] is how it is pronounced.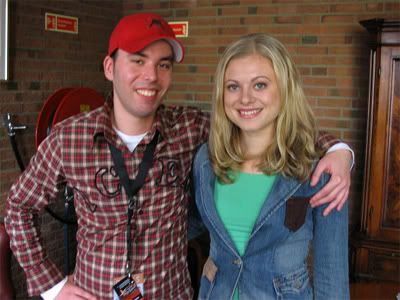 Bonnie Piesse and me @ DutchStarCon 2, november 2006.
You were in Star Wars Episode II and Episode III. How did you get cast for the movies?
I was doing some TV-work in Australia and Robin Gurland was the casting director, and she was out casting in Australia because they were filming in Sydney. So I just was very lucky to get noticed by her, and she cast me.
You have a short scene in Episode III at the end. That scene, was it filmed directly when you did the scenes for Episode II or was it filmed three years later?
It was filmed three years later. We shot all the stuff for
Episode II
in Tunisia and then for
Episode III
it was just in Sydney. And they set up a big green screen room. And actually Joel Edgerton (young uncle Owen), who was in that scene with me, wasn't there at the time. They shot his part in Ireland I think, a year later. So they had a stand-in for Owen and I had a fake baby and it was all very funny.
But in the final scene we see the two of you standing next to each other…
Yeah! I didn't see him at all.
Totally digital?
Totally digital, indeed! It looks pretty good, huh!
I bet no one has ever noticed!
Well… you did have some scenes with Hayden Christensen and Natalie Portman. How
were they to work with?
They were both great! We were all traveling together in Tunisia, obviously, so we got out to, y'know, together and we stayed in the same hotel and we all got along really well. And they were totally welcoming and warm and friendly.
Okay, because I heard some stories about Natalie Portman saying that she is not the nicest person to work with.
I think she was lovely. She was really great to me. And I've never witnessed anything rude or hostile.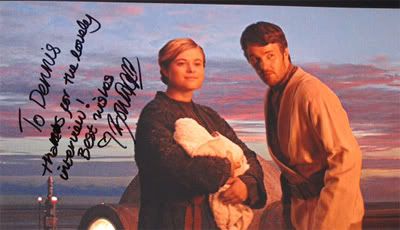 And the others, like Jack Thompson (Cliegg Lars)?
Jack Thompson was great! He is hysterical! He is so funny, he is just constantly talking in jokes. And he is forever bursting into these random accents and he's entertainment on the set.
Kenny Baker, Anthony Daniels?
Well, actually Kenny Baker wasn't working on
Episode II
. I met him at various shows and stuff, but… And Anthony Daniels was there. He was really funny, dressed up in his… suit, getting mighty hot in the desert. It was really hot out there.
You were directed by George Lucas. How was he in real life? What impression did he make on you?
He seemed very at ease and very relaxed and comfortable. Just trying to enjoy himself I think. He didn't seem stressed by the pressure at all and just really friendly and supportive.
There never were any tensions on the set? Between actors, between the crew?
No. I mean, I guess the crew got a little tense on certain times when we were running on time frames, but that happens on every set. But there were no fights or dramas or anything.
Any funny things happen on the set?
I just think it was funny that there were flies crawling all over us in Tunisia. Like all over our face and stuff during takes. And you just had to ignore them and I guess they maybe they hired some assholes or they just used the take where they weren't there, but we certainly were struggling with flies.
Were there any takes that didn't appear in the movie?
There were quite a few scenes that didn't. One including a scene with my character and Amidala in the Tatooine kitchen. We had a ladies talk while I was preparing food.
What was it about, the scene?
I was just curious about Naboo, my character, so I was asking her questions and she was telling me that there were, you know, lots of trees and water and um… and my character was just stating that I didn't have any ambition to leave Tatooine. So that was what that was about. So that got cut obviously.
It didn't end up on the DVD in the deleted scenes.
I know! I was looking forward to that!
You played a character that was first established in 1977. When was your first encounter with that movie, A New Hope, and did you like it when you first saw it?
You know… I hadn't seen the original
Star Wars
before I got cast. So…
Actually when I found out I had the audition, I went back and watched them all very thoroughly. But I hadn't watched them up until then.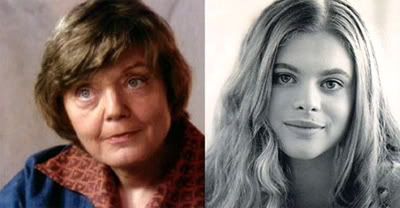 Old and young Beru: Shelagh Fraser and Bonnie
Did you study the part of the older Aunt Beru?
Yeah, you know, I studied her accent and her manner, her physical manner and stuff. But it was pretty free and George just said, 'Do with it what you feel comfortable with.'
How did it feel to take over a part that is so well known among all the Star Wars fans?
It felt great! It was so much fun to go out and be on the original sets and meet all the actors. It was really overwhelming actually, to begin with, but a lot of fun.
What do you regard as your personal highlight regarding Episode II and Episode III?
Definitely getting to travel around the world. That was a lot of fun. At sixteen and traveling with the crew and just…
You were sixteen?
Yep, sixteen. And so it was a lot of fun to go to Africa. Just an adventure. That was great!
Well about your age… you're still very young, you have your whole future lying ahead of you… What do you hope that you have achieved forty years from now?
Forty years from now? Well, I'm a singer-songwriter as well and I'm in pre-production for my debut album now, so I hope that I would've made many, many albums by that stage. Forty years, that's a long time! So, many many albums and I also eventually would like to get into scoring movies, doing music for film and acting in a lot more movies as well.
What do you enjoy the most? Acting or music?
Right now I am focusing mostly on music and I love that. It's in my heart because I'm writing it and it's my own creation. But I love to act as well, so I hope to do both of them in the future.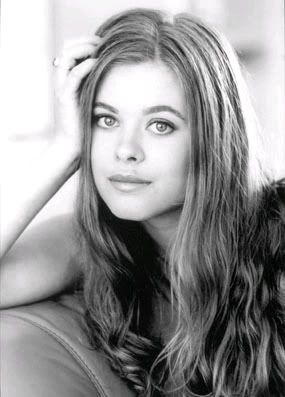 You have a new album coming out?
Yes, coming out next May. (editors note: 2007)
And the title is…?
The title is to be confirmed, I'm not sure. But it'll probably be out under 3-2-1 Records.
Okay, and which style is it? Is it pop music?
Yes, it is folk pop. So it's pretty acoustic but it is for a commercial market.
And it will be promoted all over the world, or just Australia?
No, we're staying in London actually. So we'll probably release it in Europe and then the States and then Australia and the rest of the world.
I've read that one of the people you are working with on the album is nominated for a Grammy?
He's won, actually. He's one six Grammy's for an album he did with Kim Carnes. His name is Val Garay. [Editors note: he won in 1982 for Carnes' 'Bette Davis Eyes']
Kim Carnes, that's from the eighties.
Yes! And he worked with Linda Ronstadt and James Taylor, so he's magic and I'm really lucky to have him on my team.
I have one last question. I have read in an interview that, I believe it was on Episode II, there was a Tunisian taxi driver who tried to buy you?
(laughs) That was kind of a joke I think. I don't know how serious that was, but apparently Joel Edgerton got off with 500 camels for me.